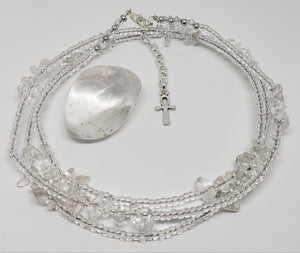 Crystal Clear
Gain clarity with the Master Healer stone known as clear quartz!
Clear beads are strung with quartz chips to offer the wearer a beautiful accented natural gemstone strand of waist beads.  
☆Clear quartz properties are as follows;
Clear Quartz is known as the "master healer" and will amplify energy and thought, as well as the effect of other crystals.  It absorbs, stores, releases and regulates energy.  Clear Quartz draws off negative energy of all kinds. It balances and revitalises the physical, mental, emotional and spiritual planes.   It aids concentration and unlocks memory.  Stimulates the immune system and brings the body into balance.  Clear Quartz (Crystal Quartz, Rock Crystal) harmonises all the chakras and aligns the subtle bodies.