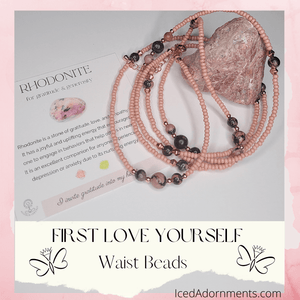 First Love Yourself (F.L.Y.)- Waist Beads
First Love Yourself is an ongoing self love project created in conjunction with Aligned Innergy, our sister brand to assist and support women from all walks of life in a journey of self love, self acceptance and self care.
Our signature piece has been created in a delicate dusty rose seed bead and accented with rose gold &  the natural gemstone,  Rhodonite. 
Rhodonite is a heart chakra stone, that not only invokes the spirit of love but also the energy of empathy, forgiveness of oneself and gratitude.