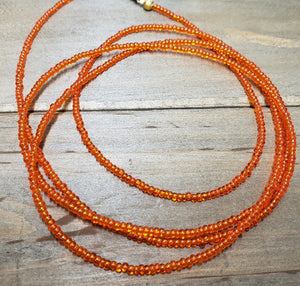 Orange you glad to see me 🍊
"Orange increases energy, vitality, and creativity, renews youthfulness, and brings hope; assists with healing the sacral chakra."
🍊
Includes; Single Solid Strand of Orange Waist Beads; created on bead wire, closed with nickel free clasp and 2 inch extender*
🍊
*Extenders allow for adjustments to be made for up to 2 inches on waist beads. A 32" inch strand will fit anywhere between 32"- 34."  If you waist measures at 33", order a 32" to allow the perfect fit.